If you need help with any service or maintenance, we specialize in trouble-shooting and diagnostics and can answer all your golf car questions. Or, if you would like to customize your golf car with a shiny new set of chrome wheels – A1 Custom Golf Cars will keep you rolling in style.
In Shop Service
A1 Custom Golf Cars offers a complete range of parts and services to support your golf car needs and keep it running in top condition.
Our technicians are the best in the business and we use only the highest quality parts.
Mobile Service
A1 CUSTOM GOLF CARS has a fleet of service vehicles and trained staff who can service your golf car on site - at your residence or business.
Our service vehicles normally carry all of the tools, equipment and parts that might be needed to repair or service your golf car.
Should we find that the service requires specialized care, we will be happy to transport your golf car to our shop for a nominal $75.00 charge to ensure a proper repair.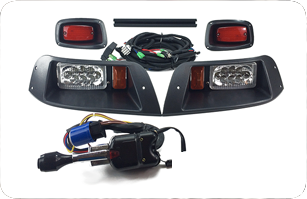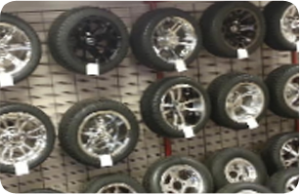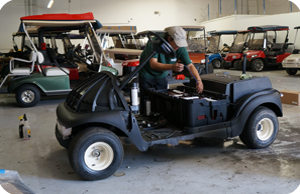 Some of our parts and services include:
Accessories

Fabrication

Motor Assembly

Body & Paint

NEV Controllers

Brakes

Suspension

Cables

Tires

Covers

Upholstery

Diagnostics

Wheels

Electronics
In addition, we fix all brands of golf cars including:
Club Car

E-Z-GO

Western

Yamaha & Others